Event Details
South of England Crafts for Christmas
24th – 27th October 2019
South of England Showground, Ardingly, West Sussex, RH17 6TL
This is a well-established and highly successful stand-alone show which gives you a great opportunity to secure early Christmas business. It was taken over by Eden Crafts in 2016 and has continued to prosper, attracting in excess of 9000 over the 4 days, similar to previous years and exceptional for a stand-alone event of this nature.
For 2019 we will be introducing a series of demonstrations throughout each of the four days in order to induce visitors to stay longer at the show. There will three of these ongoing, and topics will include cake making, glass blowing and wine tasting. This feature will be emphatically included in the advertising for the show.
The South of England showground has a catchment area which includes highly affluent parts of Surrey, Sussex and Kent, and this promises to be an exciting addition to our calendar.
There will be 100 high quality craft and gift stands plus catering, and the event will be extensively advertised. There will be free entry for South of England Agricultural Society members on Thursday, and half price entry on Friday, Saturday and Sunday.
Thursday 24th October– Sunday 27th October
Set Up; Wednesday: 2.00 pm – midnight, Thursday: before 8.30 am
Trading; 9.30 am – 5.00 pm
Space; 8ft x 6ft. This space includes the access to your stand.
Price; £499.00 Extra 1ft x 6ft: £62.40
Electrics; £50.00 (Maximum 500w per 8ft stand)
Table; £10.00
Chair; £2.00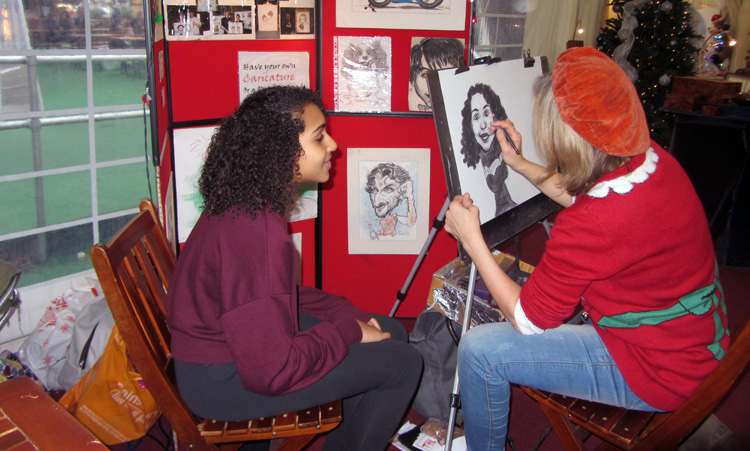 Nada the Caricaturist
< Back to Diary of Events