Event Details
Royal Kingston Christmas Fair
15th November – 24th December 2018
Grounds All Saints Parish Church, Clarence Street, Kingston Upon Thames, Surrey KT1 1JS
We return to Royal Kingston Town Centre for our flagship event in the lead up to Christmas.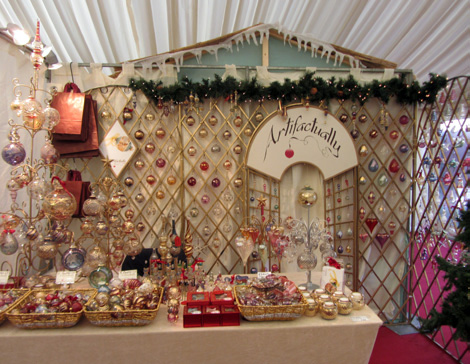 Artifactually
The Eden Crafts marquee is still situated on All Saints Parish Church Green as before, but the rest of the town sees huge developments in a plan to turn Kingston into the largest town centre Christmas event in the UK. Town centre management have based their layout on Berlin, the largest Christmas market in Germany, which has a far eastern flavour; stalls being housed in shedding with pointed roofs.
These feature throughout the town, stretching through the market square and along High Street to the Rose Theatre, and alongside the Bentall centre etc. On the opposite side of the green is a large bar area, and a podium on which various singers and musicians perform throughout the day.
All of this enhances the appeal of Kingston in the Christmas trading period and improves the footfall in the Eden Crafts marquee. There will be wooden flooring and overnight security. Our Craft and Gift Fair is always an excellent opportunity for exhibitors to sell directly to the public in the affluent Royal Borough of Kingston. The town centre attracts around 20 million visitors a year and up to 500,000 per week during the peak Christmas trading period.
Thursday 15th November - Monday 24th December 2018

Trading: 10.00am - 6.00pm, (Sunday, Monday, Tuesday and Wednesday)
10.00am - 8.00pm (Thursay, Friday and Saturday)
Space; 8ft x 6ft. This space includes access to your stand.
Price: £3,150 for entire period. Extra 1ft x 6ft space: £394.00
If you wish to do a single week before Christmas, please let us know.
If we can accommodate you the charge will be £649.00
Electrics: £50.00 (500 watts maximum)
Table: £10.00, Chair: £5.00
< Back to Diary of Events